Everyone loves to spend time in their backyards, but often enough you'll find the hot Australian sun will make you want to lock yourself indoors with the air-conditioner cranked to the maximum. As we're finally nudging towards the warmer months of our year it's the perfect time to start thinking of creative ways to create shade in your backyard. A fun, convenient and affordable solution to try is a shade cloth! Keep reading to find out more...
.
What Is a Shade Cloth?
[caption id="" align="aligncenter" width="382"]
Source: ushade.co.za[/caption]
A shade cloth is exactly what its name suggests: a cloth that has been specifically designed and manufactured to create shade. This
particular brand
of cloth is manufactured from UV-stabilised HDPE, ensuring protection from the suns harsh rays, and is also composed from heavy duty monofilament thread, allowing it to be strong and resistant to the elements. It is also available in a range of colours and thicknesses so you can find what'll suit your home best.
.
Entertainment Area Shade
[caption id="attachment_11983" align="aligncenter" width="738"]
Source: marketcorner.trivantage.com[/caption]
You probably want to make your entertaining area as pleasant and relaxing as possible. In order to ensure you and your guests don't fry to a crisp whilst you're enjoying a nice backyard BBQ why not install a simple shade cloth over the top of your area? For example over your decking, pergola or outdoor dining table. In this area of your home stray away from typical shade cloth colour choices and instead opt for something bolder such as red or orange!
.
Pool Area Shade:
[caption id="" align="aligncenter" width="703"]
Source: www.pixbam.com[/caption]
Your permanent or inflatable pool will become a much safer area for your children to enjoy the summer heat if you choose to install a shade cloth. An Australian summers day can reach up to 45 degrees, and hence an extra layer of protection from the suns harsh UV rays is always useful.
Please note that even if you have shade cloth coverings, the use of sunscreen and protective clothing such as hats and sunglasses is essential, even on those cloudy days!
We suggest you opt for cool and calm colours such as white or cream when installing a shade over your pool to create a peaceful and relaxing atmosphere.
. 
Playground Shade:
[caption id="" align="aligncenter" width="600"]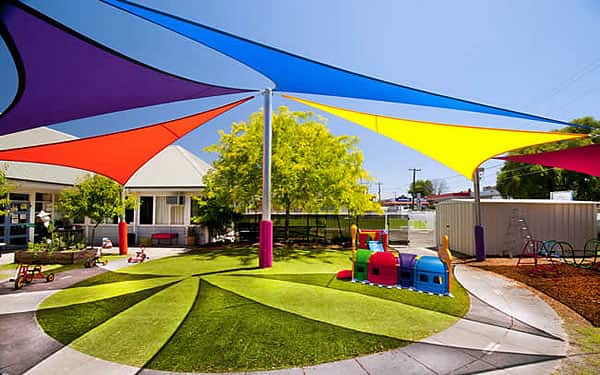 Source: www.playgroundequipmentusa.com[/caption]
Similar to your swimming pool, playground shade will provide a sun-smart solution to playground use during hot Australian summer days. Shade cloth will prevent equipment from being damaged from environmental factors and will provide a safe, cool area for your family to enjoy.
.
Garden Shade:
[caption id="" align="aligncenter" width="568"]
Source: www.gcastd.org[/caption]
Australian weather conditions can be very harsh for our gardens. Thankfully a shade cloth can be used to protect your garden from sun, rain, drying winds, mildew, frost and chemicals. Overall it's an inexpensive and effective way to tailor gardening conditions and ensure a fruitful harvest.
.
Depending on the environment, your space and types of greenery, you may want to research different types of shade cloth and choose what will best fit your backyard requirements. If it is all too confusing, please don't hesitate to give the team at Print My Fence a call on
1300 323 322
.
Author Bio:
This article was written by Madina Azamy from Print My Fence – Australia's number 1 provider of high quality printed shade cloth and custom banners at affordable prices.